Bring the Best, with SwiftPOS Order Kiosks & Customer Kiosk
A perfect solution for QSR's, Club's and hotel's. Give your customers more ways to interact with your venue.
More options means, fewer lines, faster service, more orders and happier, returning customers.
Create inbuilt loyalty rewards & programs, gaining valuable insight into your customers spending behaviour. Reward your members instantly, when they entre your venue, with the Customer Kiosk.
Simple & Intuitive Layouts Means Quicker Ordering
A perfect solution for QSR's and Club's bistro style services. Order and Pay via EFTPOS at the Kiosk or with flexible options to pay on pickup. Create simple function buttons and layouts, to give your customers clear direction, for ordering and paying.
Improved EFTPOS features and integration allows for customers & members to pay at the kiosk or pay when their food is ready.
Order Ahead & Jump the Queue
SwiftPOS Kiosks accommodates both landscape & portrait interfaces, with fully customisable designs. Create intuitive and eye-catching order menus with
Images, PNG files,
Text and
Video screen savers, with Flash video graphics
Do More:
Buy raffles tickets
Buy & use gift vouchers
Pay with points
Tap & go
EFTPOS integrations including Tyro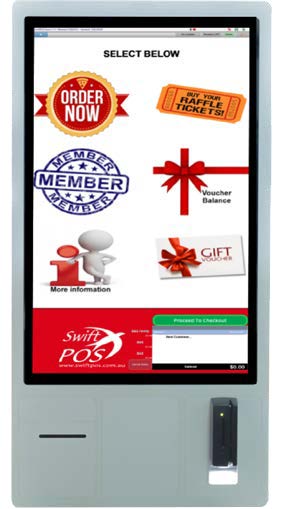 Simple Layout Designs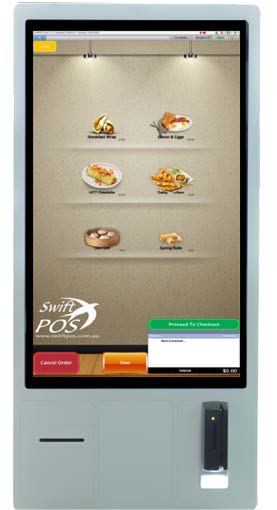 Set Menu ItemImages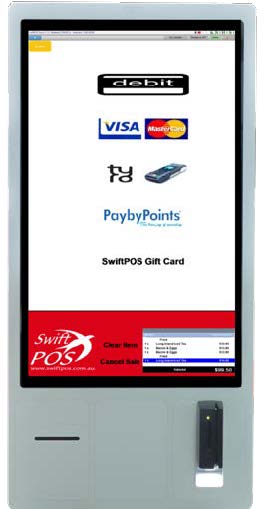 View Order & Pay