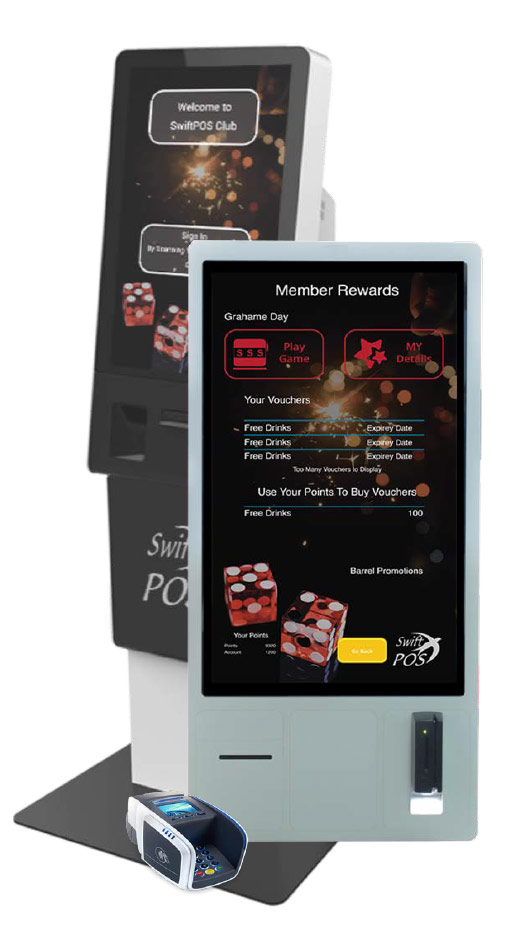 Reward Members on Entry to Your Club
Providing More Points of Interaction with Members
The Customer Kiosk showcases all members details. By simply scanning or swiping their members cards, members can:
View Account Details,
Use their Points,
Pay Membership Fees
Play a Rewards Game
Link Points to the Gaming Systems.
Why the SwiftPOS Customer Kiosk?
A Powerful Marketing Tool
Gain Valuable Member Insight
Perfect Advertising & Promotional Interface
A Direct Point of Contact With Members
The SwiftPOS Member kiosk software is designed to reward members as they enter the venue as well as as an information point, so members can check to see how many points they have accrued as well as the vouchers they have available.
General Features:
Voucher Printing.
Displays Member Name and Points.
Rewards Members each day they visit.
Venue Promotions with a slide show of coming events.
Kiosks can be free standing or wall mounted.
Simple promotional tool to enhance the tracking of Member activity within a Venue.
Simple to set-up and operate with a promotional slide show of coming events.
Only requires basic PC with Card Reader or Card Scanner.
Set up a Card Mask to match your Member Cards.
Choose a background colour scheme to suit your venue.
Stop Members from using their card multiple times the same day.
Set odds for random draws and set list of random prizes for the winners.
Print Birthday vouchers.
Play random sounds for non-winners for more variety when Members swipe their cards.
Run Promotional advertising when not in use with easy to use pictures in a directory.
Software updates via the Web to keep your Member Kiosk software current.